At Salesforce Training, we love the immense power of Salesforce. There is so much potential for a sales team to work more productively and sell more effectively when they utilize Salesforce correctly. For over a decade, we've guided sales teams on how to unlock this potential and to generate superior sales results.
Salesforce Training believes that customized, relevant and hands-on training is what sales teams need most to excel with Salesforce. The most successful training solutions involve getting sales people to:
think about why things work the way they do,
understand how they can leverage it for their own individual success,
interact with the tool through hands-on training.
Through highly interactive and hands-on training, we help sales teams ensure that they will succeed with Salesforce.
We help companies that recognize that in order to scale their business, they need to embrace CRM. When we start working with our clients, some of them are still using spreadsheets, while others have already implemented Salesforce, but have discovered that their salespeople either can't, or won't use it effectively.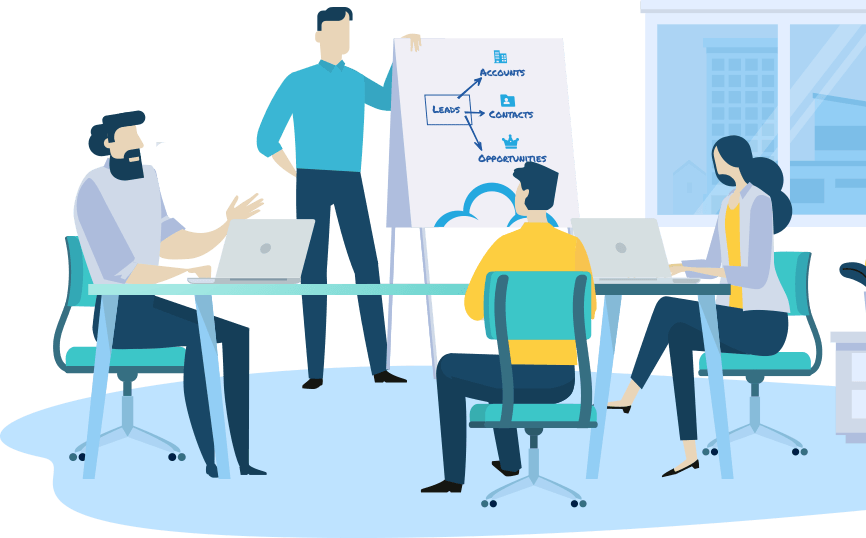 We start by working with executive and senior management stakeholders to understand the strategic initiatives of the business. Then we focus a lot of time and attention on the frontline Sales Leaders, as they are the key to driving the behavior change that is needed. In our programs the Sales Leaders always spend the most time in training, so that they can learn:
so that they can take on the role of coach and mentor to their teams
as a management tool so that they can plan and run pipeline meetings and forecast using the various reporting tools, and
How to Encourage the Sales Team
to undergo the often difficult behavior change transformation required for successful adoption.
We follow this approach consistently, as it is the only way we know that will enable companies to achieve the transformation they wanted when they decided to move to Salesforce.
Salesforce Training was founded as a selling skills training company in the early 1990's, years before Salesforce.com was even a thing. Thousands of sales people across all industries went through our core program, Value-Based Selling, where they became more effective in the field of consultative selling.
Today our training still incorporates this same mindset. We want to see sales teams be better at sales. We help them to see how Salesforce can transform how they sell and help make them more successful.
Our success as a training firm stems from three core principles:
We are Salesforce training specialists. We do not implement Salesforce. We provide exceptional training that helps our clients achieve success.
We follow our proven process.
We work to understand our clients' sales processes and how they've set up Salesforce, and then we customize our classes based on what we've learned.
For the success of sales training, we believe that our trainers must:
understand how sales people think and how sales teams interact – many of our trainers have been in sales roles before.
hold at least one Salesforce certification – this is the ultimate mark of affirming one's knowledge of the platform.
be fun and engaging – sales people hate sitting still and being quiet.
provide training that is highly relevant – it must mirror how a sales team sells in the real world.
get salespeople actually using Salesforce in class – both on a computer and on a phone.
get salespeople to understand how Salesforce will make them more successful and get them to want to use it.
When we get sales people excited to use Salesforce as it was intended, sales teams and their companies will reap enormous benefits.
Focus
We don't do anything other than train on this platform.
Engagement
We provide training that is relevant for sales teams. We make it interactive and fun in order to engage sales teams and get them to use Salesforce.
Innovative
We learn about our client's goals, processes and culture so we can provide the most engaging and relevant training.
Passionate
We love to train. We love to see salespeople engaged. We love to see sales teams succeed.
Fun!
We know salespeople get bored if they aren't having some fun. We make training relevant and we keep it fun, so they stay engaged and get the most of the training.
"The trainer was awesome! He presented in a clear, engaging way."